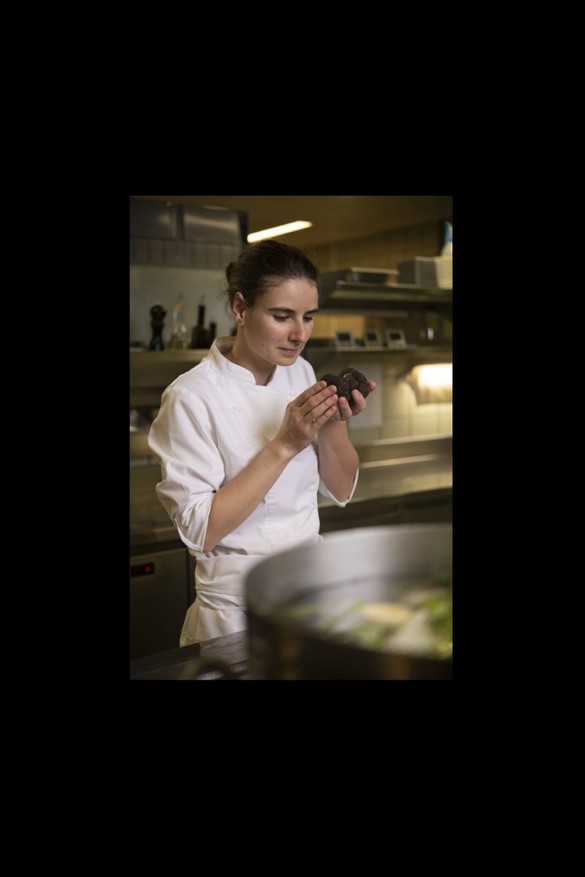 FINE TARTAR WITH YOUNG LEEK AND AQUITAINE CAVIAR
Ingredients
A 12cm diameter puff pastry disc
Blanched leek 300gr
Aquitaine caviar 3gr
Potato 20gr
One egg yolk
Leek green 20gr
Salt and pepper
Olive oil
Vegetable stock



Recipe
Brown the puff pastry with egg yolk, square the top and bake at 200°C. Wash and cut one part of the blanched leek into julienne strips, and the other into 2cm high slices, salt them and bake them in a steamer in a perforated tray for about 12 minutes. Fry the julienne at 130°C, season while hot. Make a parmentier purée with the potato, leek green, olive oil and vegetable stock. Strain and pipette.
Place a dot of purée in the centre of the plate, put the disc on top and place the warmed leek slices on top, leaving a small edge of pastry around it. Shine the whole thing with olive oil, fleur de sel and pepper. Put a 3g piece of Aquitaine caviar on top and finish with the fried leek julienne.
Translated with www.DeepL.com/Translator (free version)
Enjoy your meal!