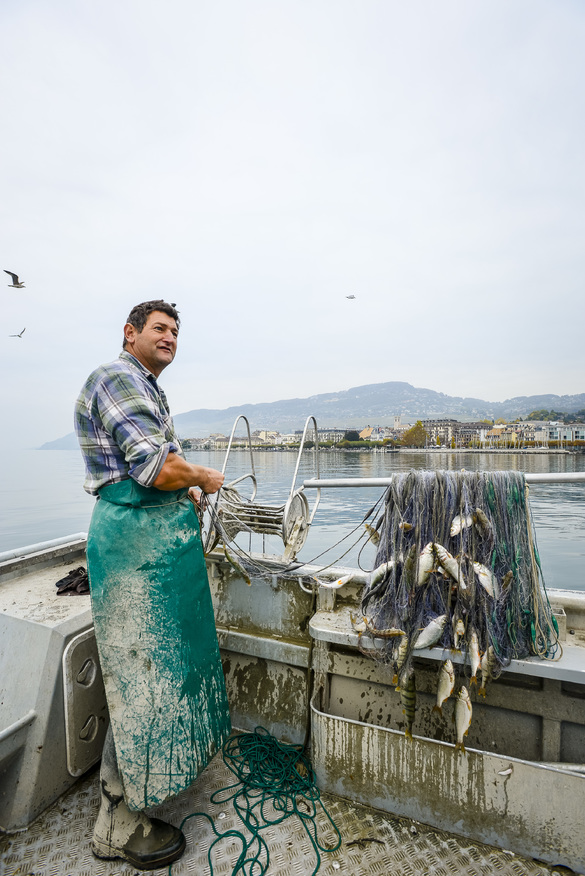 PATRICE
Every day, our fisherman Patrice brings us the fish he catches in his nets in Lake Geneva, just a few steps from the hotel. Patrice knows the Swiss Riviera like the back of his hand. A true nature-lover, Patrice lives and breathes for the lake and its upkeep, for our fabulous climate, for the Lavaux wines and the diversity of local produce, not to forget all the different characters behind it – the people who shape our region.
Patrice is here to bring you his catch of the day and invites you on board his boat for a trip on the lake. Sit back and enjoy Patrice's stories as he unveils the mysteries of Lake Geneva and tells you all about the history of fishing here. You'll discover the wealth of different species of fish and you'll get the low-down on how to prepare it. In the heat of the summer, it's impossible to resist the temptation of jumping into the water for a refreshing dip in the middle of the lake.
With a bit of luck, you'll hook a fish in no time. A fish to bring back to our cooking team, who will prepare it for you.
LET'S FISH FOR OUR DINNER!
BOAT TRIP
HOOK-AND-LINE OR NET FISHING
EAT WHAT YOU CATCH
Hook-and line fishing from 8am to 12pm, all year round and every day, subject to availability.
OR

Net fishing, from 2pm to 5pm, for children, with swimming in the summer from June 15 to September 1, every day, subject to availability.
Chf 150.- Boat trip for 1 to 5 persons.

Chf 50.- Dinner with your catch of the day accompanied by a glass of Chasselas de Lavaux. Price per person.Other food and drinks not included.
Booking & information
info@hoteltroiscouronnes.ch - +41(0) 21 923 32 00